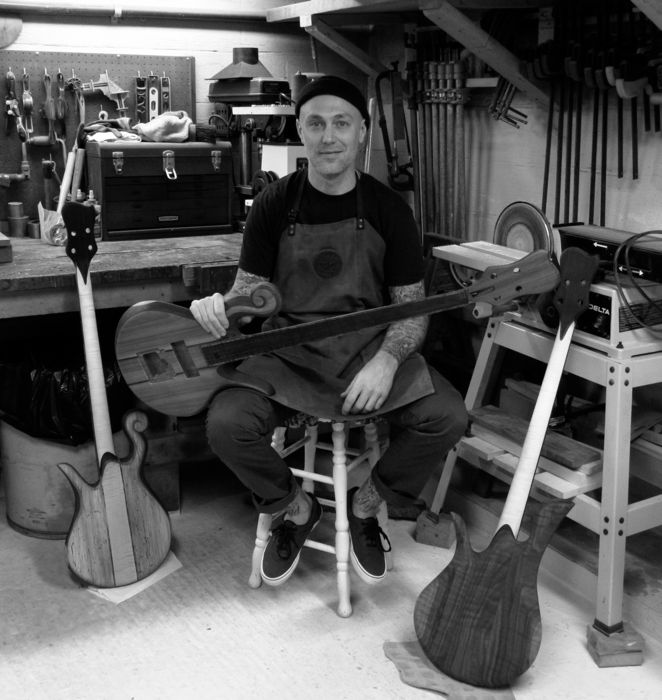 About Pete Hilton
Growing up in Michigan and coming from a family of woodworkers, I was exposed to a DIY environment of building things at an early age. My first attempt at building an instrument was creating a fretless neck for a bass when I was 17 years old. Playing in bands throughout the 90's, I was inspired to find a more comfortable instrument to play. I began to build in my spare time, experimenting with different woods, shapes, and ergonomics.
In 2001, I reached out to the person who would become my future friend and mentor—Carl Thompson.I moved to Brooklyn, NY to be his apprentice, and it was while working under Carl where I honed the techniques of building a balanced instrument, 100% by hand. A couple years later he gave me his blessing to build my own instruments, and thus Hilton Guitars was born. I worked alongside Carl until 2013, before moving to Los Angeles. 
About Hilton Guitars
What I create are instruments of precision and math at the core. The balance, weight, and ergonomics are all calculated before every build. Aesthetically, they are also visually balanced, with clean lines and color palettes that complement one another.
My process always starts the same, with a long conversation to understand the customer's background—what they are looking for, style of playing, and ergonomic needs. I am a one-man shop, ensuring every detail throughout the build process is of the highest quality.